This page is part of the DK MedCom Messaging (v2.1.0: Release) based on FHIR R4. The current version which supercedes this version is 1.0.3. For a full list of available versions, see the Directory of published versions
Resource Profile: MedComMessagingMessageHeader
Official URL:

http://medcomfhir.dk/ig/messaging/StructureDefinition/medcom-messaging-messageHeader

Version:

2.1.0

Active as of 2023-10-31
Computable Name:

MedComMessagingMessageHeader
MessageHeader for MedCom messages
Scope and usage
This profile describes the MessageHeader resource that shall be used in all MedCom FHIR Messages. A MedComMessagingMessageHeader shall include a sender and receiver and it may include a carbon-copy receiver, however this is depended on type of standard. Each MedComMessagingMessageHeader shall include a globally unique id, which is used to describe the message history from the MedComMessagingProvenance profile.
The element event shall be defined in accordance with the type of standard the message concerns e.g., HospitalNotification and CareCommunication. Due to the different requirements for each standard, it should be expected that the MedComMessagingMessageHeader is inherited in each standard.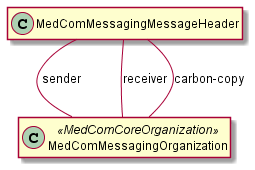 Please refer to the tab "Snapshot Table(Must support)" below for the definition of the required content of a MedComMessagingMessageHeader.
Usage:
Formal Views of Profile Content
Description of Profiles, Differentials, Snapshots and how the different presentations work.
This structure is derived from MessageHeader
Terminology Bindings (Differential)
Terminology Bindings
Constraints
Id
Grade
Path(s)
Details
Requirements
dom-2
error
MessageHeader
If the resource is contained in another resource, it SHALL NOT contain nested Resources
: contained.contained.empty()
dom-3
error
MessageHeader
If the resource is contained in another resource, it SHALL be referred to from elsewhere in the resource or SHALL refer to the containing resource
: contained.where((('#'+id in (%resource.descendants().reference | %resource.descendants().as(canonical) | %resource.descendants().as(uri) | %resource.descendants().as(url))) or descendants().where(reference = '#').exists() or descendants().where(as(canonical) = '#').exists() or descendants().where(as(canonical) = '#').exists()).not()).trace('unmatched', id).empty()
dom-4
error
MessageHeader
If a resource is contained in another resource, it SHALL NOT have a meta.versionId or a meta.lastUpdated
: contained.meta.versionId.empty() and contained.meta.lastUpdated.empty()
dom-5
error
MessageHeader
If a resource is contained in another resource, it SHALL NOT have a security label
: contained.meta.security.empty()
dom-6
best practice
MessageHeader
A resource should have narrative for robust management
: text.`div`.exists()
ele-1
error
**ALL** elements
All FHIR elements must have a @value or children
: hasValue() or (children().count() > id.count())
ext-1
error
**ALL** extensions
Must have either extensions or value[x], not both
: extension.exists() != value.exists()
Terminology Bindings
Constraints
Id
Grade
Path(s)
Details
Requirements
dom-2
error
MessageHeader
If the resource is contained in another resource, it SHALL NOT contain nested Resources
: contained.contained.empty()
dom-3
error
MessageHeader
If the resource is contained in another resource, it SHALL be referred to from elsewhere in the resource or SHALL refer to the containing resource
: contained.where((('#'+id in (%resource.descendants().reference | %resource.descendants().as(canonical) | %resource.descendants().as(uri) | %resource.descendants().as(url))) or descendants().where(reference = '#').exists() or descendants().where(as(canonical) = '#').exists() or descendants().where(as(canonical) = '#').exists()).not()).trace('unmatched', id).empty()
dom-4
error
MessageHeader
If a resource is contained in another resource, it SHALL NOT have a meta.versionId or a meta.lastUpdated
: contained.meta.versionId.empty() and contained.meta.lastUpdated.empty()
dom-5
error
MessageHeader
If a resource is contained in another resource, it SHALL NOT have a security label
: contained.meta.security.empty()
dom-6
best practice
MessageHeader
A resource should have narrative for robust management
: text.`div`.exists()
ele-1
error
**ALL** elements
All FHIR elements must have a @value or children
: hasValue() or (children().count() > id.count())
ext-1
error
**ALL** extensions
Must have either extensions or value[x], not both
: extension.exists() != value.exists()
This structure is derived from MessageHeader
Summary
Mandatory: 9 elements (2 nested mandatory elements)
Must-Support: 14 elements
Structures
This structure refers to these other structures:
Extensions
This structure refers to these extensions:
Slices
This structure defines the following Slices:
The element MessageHeader.destination is sliced based on the value of value:$this.extension.value (Closed)
Differential View
This structure is derived from MessageHeader
Terminology Bindings (Differential)
Key Elements View
Terminology Bindings
Constraints
Id
Grade
Path(s)
Details
Requirements
dom-2
error
MessageHeader
If the resource is contained in another resource, it SHALL NOT contain nested Resources
: contained.contained.empty()
dom-3
error
MessageHeader
If the resource is contained in another resource, it SHALL be referred to from elsewhere in the resource or SHALL refer to the containing resource
: contained.where((('#'+id in (%resource.descendants().reference | %resource.descendants().as(canonical) | %resource.descendants().as(uri) | %resource.descendants().as(url))) or descendants().where(reference = '#').exists() or descendants().where(as(canonical) = '#').exists() or descendants().where(as(canonical) = '#').exists()).not()).trace('unmatched', id).empty()
dom-4
error
MessageHeader
If a resource is contained in another resource, it SHALL NOT have a meta.versionId or a meta.lastUpdated
: contained.meta.versionId.empty() and contained.meta.lastUpdated.empty()
dom-5
error
MessageHeader
If a resource is contained in another resource, it SHALL NOT have a security label
: contained.meta.security.empty()
dom-6
best practice
MessageHeader
A resource should have narrative for robust management
: text.`div`.exists()
ele-1
error
**ALL** elements
All FHIR elements must have a @value or children
: hasValue() or (children().count() > id.count())
ext-1
error
**ALL** extensions
Must have either extensions or value[x], not both
: extension.exists() != value.exists()
Snapshot View
Terminology Bindings
Constraints
Id
Grade
Path(s)
Details
Requirements
dom-2
error
MessageHeader
If the resource is contained in another resource, it SHALL NOT contain nested Resources
: contained.contained.empty()
dom-3
error
MessageHeader
If the resource is contained in another resource, it SHALL be referred to from elsewhere in the resource or SHALL refer to the containing resource
: contained.where((('#'+id in (%resource.descendants().reference | %resource.descendants().as(canonical) | %resource.descendants().as(uri) | %resource.descendants().as(url))) or descendants().where(reference = '#').exists() or descendants().where(as(canonical) = '#').exists() or descendants().where(as(canonical) = '#').exists()).not()).trace('unmatched', id).empty()
dom-4
error
MessageHeader
If a resource is contained in another resource, it SHALL NOT have a meta.versionId or a meta.lastUpdated
: contained.meta.versionId.empty() and contained.meta.lastUpdated.empty()
dom-5
error
MessageHeader
If a resource is contained in another resource, it SHALL NOT have a security label
: contained.meta.security.empty()
dom-6
best practice
MessageHeader
A resource should have narrative for robust management
: text.`div`.exists()
ele-1
error
**ALL** elements
All FHIR elements must have a @value or children
: hasValue() or (children().count() > id.count())
ext-1
error
**ALL** extensions
Must have either extensions or value[x], not both
: extension.exists() != value.exists()
This structure is derived from MessageHeader
Summary
Mandatory: 9 elements (2 nested mandatory elements)
Must-Support: 14 elements
Structures
This structure refers to these other structures:
Extensions
This structure refers to these extensions:
Slices
This structure defines the following Slices:
The element MessageHeader.destination is sliced based on the value of value:$this.extension.value (Closed)
Other representations of profile: CSV, Excel, Schematron